Taxi Service in Jaipur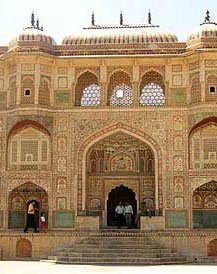 Jaipur City Also the Capital city of Rajasthan is One of the Metro cities in India and is fastest growing among the Rest of Metro's. Founded in 1762 By King Sawai jai singh and Developped by an Extremely intelligent architect Jaipur is also popular for it's Forts and palaces. The land of rajputs Has a vast and brave history and culture. The brave stories of rajputs and the fascinating Forts and palaces will make you Proud of Ancient Rajasthan. This City has some of the world heritage sites visited by millions of domestic and foreigner visitors every year. Amber fort, city palace, water palace and albert museum are some of the most visited Sightseen monuments in jaipur.
Jaipur Local Sightseeing Taxi
Jaipur city is Popular for textile, jewellery and Gems and stones business. One of the biggest business hub for Gems and Jewellery Jaipur has it's own name worldwide in Jewellery designing.

Jaipur Taxi Services Rate Chart For Local and OutStation
| Vechile Type | Local Rate | Inclusions | Hours Limit | Outstation Per Kms | Night Allowance |
| --- | --- | --- | --- | --- | --- |
| Indigo/Dzire | 2000 | Ac vechile | 10Hrs | 9rs Ac | 200 |
| Tavera | 2500 | Ac vechile | 10Hours | 10rs Ac | 200 |
| Innova | 3000 | Ac vechile | 10Hours | 12rs Ac | 250 |
| Tempo Travel | 4500 | Ac vechile | 10 Hours | 17rs Ac | 300 |
| Mini Bus 15Seat | 5500 | Ac vechile | 10Hours | 20rs Ac | 300 |
| Mini Bus 21Seat | 6500 | Ac vechile | 10Hours | 23rs Ac | 300 |
| Bus 35Seater | 8000 | Ac vechile | 10Hours | 32rs Ac | 300 |
| Bus 41Seater | 10500 | Ac vechile | 10Hours | 37rs Ac | 300 |
| Bus 52Seater | 12500 | Non Ac | 10Hours | 38rs Ac | 300 |